#1 Tool for Self-improvement
A practical self-improvement Journal which turns theory and proven concepts from the fields of psychology and science into actionable habits and practices you can use daily to transform your life.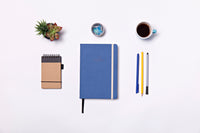 Build life-changing habits in 13 weeks 😃
> Understand the science of how habits work and learn success strategies to make them stick.
> Learn about the powerful research backed 'Reboot' Habits that you can use in your daily and weekly routines. 
> Follow the beautifully designed daily format to keep you on track and accountable — reducing decision fatigue and your reliance on memory and willpower. 
Become Healthier, Happier and accelerate your Personal Growth
Follow a holistic approach to self-improvement with habits aimed at improving your physical, mental and emotional state and fueling your personal growth.
• Feel happier and productive everyday ✔
• Experience the benefits of a Morning and Evening Gratitude practice ✔
• Feel the joy of knowing you are improving your life everyday ✔
• Become wiser - cultivate your self-awareness with daily reflection ✔
• Learn to 'Upgrade' your Identity to support new positive behaviours ✔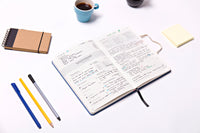 Your coach, companion and accountability partner in your journey to becoming the best version of you.
• Undated 3-Month Journal ✔
• Daily planning and review pages. ✔
• Inspiring Daily quotes. ✔
• Daily Habit completion Check-List. ✔
• Weekly review and planning sections. ✔
• Weekly Habit Tracking Chart ✔
• 13-week final review and reflection section. ✔
• No Risk - 30-Day Money Back Guarantee ✔
buy now
"Successful people are simply those with successful habits."
What Customers are Saying